About Foote Family Farm...
A beautiful farm set against the North Mountain in Woodville Kings County, Nova Scotia. Orchards with tidy rows of dwarf trees are near the 19th century farm house and barns. Come to get your honey and cider, pick some apples, picnic in the cherry orchard, or go for a hike on the Woodville hiking trails.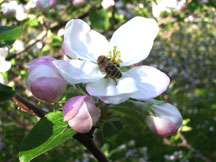 Foote Family Farm is a family run farm. We grow apples, and some cherries . Apples are pressed on Fridays to produce fresh unpasteurized apple cider (no preservatives added). Beekeeping is a family tradition begun by George's father Henry. We produce and sell honey products on our farm.