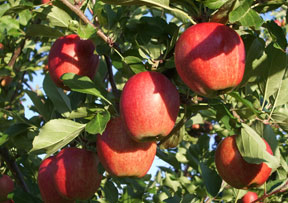 Apples, Apples, and more Apples!
We Pick or You Pick
At Foote Family Farm we have 14 varieties of apples available to pick from as they ripen, starting with Crimson Beauty on August 15, to Northern Spy on October 15. Enjoy a family outing to the farm to pick some of the finest Annapolis Valley apples.
We have the following varieties - listed in approximate ripening order:
Crimson Beauty
Red Astrachan
Gravenstein
Cox's Orange Pippin
McIntosh
Gala
Honeycrisp
Jonamac
Cortland
Jonagold
Red Delicious
Idared
Golden Russett
Northern Spy

We have other fruit too! Go here to see our other farm produce!